| | | |
| --- | --- | --- |
| JOHNNY DYANI OPNAMES | | |
Die kunstenaar Aryan Kaganof het vier kassette aan DOMUS geskenk. Die kassette bevat 'n ongepubliseerde onderhoud met The Blue Notes kontrabasspeler, Johnny Dyani. Kaganof was aktief in die anti- apartheidstryd in Nederland (waar hy roem verwerf het as die filmmaker Ian Kerkhof). Hy het die skenking gemaak gedurende sy aanbieding oor Dyani tydens die Music and Exile Simposium in Johannesburg (27-28 Januarie 2010). Die Simposium is georganiseer deur Unisa lektor (en voormalige meestersgraadstudent van Stellenbosch Universiteit) Stephanie Vos, en is aangebied deur die Johannesburg Goethe Institut. Nadat hy daarop aangedring het dat alle opnametoerusting afgeskakel word gedurende sy praatjie, het Kaganof Dyani (1945-1987) in herinnering geroep as 'n briljante en onkonvensionele musikus. Hy het vertel van sy kennismaking met Dyani se musiek terwyl laasgenoemde in bannelingskap in Swede gewoon het, hulle eerste kontak en daaropvolgende vriendskap, asook van die toer wat hy vir Dyani georganiseer het in Nederland. In 'n verrassende en spontane verloop van gebeure, het Kaganof die kassette met die onderhoud oorhandig aan die hoof van DOMUS, Stephanus Muller, wat in die gehoor gesit het. Kaganof het die gehoor gevra om te besin oor wat hierdie skenking aan die historiese intellektuele tuiste van apartheid sê oor die institusioneel-prekêre toestand van Suid-Afrika se musikale erfenis in die algemeen, maar spesifiek oor die nalatenskap van banneling-musici soos Dyani.
Dyani en Kaganof (Beeldmateriaal verskaf deur Aryan Kaganof)
Die oorsprong van hierdie kassette wat onderhoude met die musikant Johnny Mbizo Dyani bevat, sien soos volg daaruit:

"I was 19 years old when I left South Africa to avoid being conscripted into the apartheid army.

My great passion was music and I had for a number of years been the head reviewer of the New Albums page of Scope magazine.

It was only once outside of South Africa however, that I encountered for the first time the music of the jazz exiles, most notably of which, The Blue Notes.

Blue Notes For Mongezi remains, for me, the most excoriating musical document ever produced by South African musicians.

I fell in love with the singing tones of the bass on that album and started to hunt down every recording that I could find by that bass player whose name was Johnny Mbizo Dyani.

By the end of 1985 I had a collection of about 40 albums which featured Johnny as a side man, as well as all of his albums as a leader. It was then that I happened to meet Lefifi Tladi, a South African in exile who had left the country after the student uprisings of 1976. Lefifi shared my passion for Johnny's soulful music and gave me Mbizo's phone number. "Call him", Lefifi said, "he'd appreciate that."

Johnny was living in Malmo, Sweden, at the time, and his subtly melodic, occasionally rasping voice reminded me of his bass playing. We talked for hours on the phone and he ended by saying "Do something man, don't just tell me you like my music, do something!"

I was a very serious, literal-minded young man and so I organised a tour through Holland for Johnny and the Harlem-born percussionist Emmanuel Abdul Rahim, who was then living in Copenhagen. It was called the Radio Freedom Christmas tour and the money raised was used to buy studio equipment for the ANC's Radio Freedom broadcast stations in Tanzania and Zambia.

Johnny was accompanied on the tour by a Ghanaian hi-life band [Kumbi Saleh], the Dutch reggae outfit Revelation Time, and British dub poet Benjamin Zephaniah. The tour was huge success, all the concerts well sold out and a lot of money was raised. Johnny and I decided to put together a group consisting of South African exiles as well as the cream of players still in the country. From the offices of the Dutch Anti-Apartheid Movement (where I was working at the time) we phoned Barney Rachabane and Winston Mankunku Ngozi. They were both excited by the prospect of coming out to Europe to tour with Johnny's exile band. Tete Mbambisa would be the piano player. Then Johnny suddenly died onstage in 1987. His liver gave way.

I was devastated.

For 24 years I carried four cassettes around with me which contained an interview that I did with Mbizo on 23 December 1985 in the offices of the Dutch Anti-Apartheid Movement on the Lauriergracht in Amsterdam. My only question to Johnny was "tell me what you think is important." [...]
(Aryan Kaganof, Korrespondensie, 26 Februarie 2010)
(Februarie 2010)
KAGANOF VERSAMELING VIR DOMUS
Die bydrae van Aryan Kaganof tot die kultuurlewe van Suid-Afrika kan gesien op word op verkskeie vlakke en deur verskillende mediums. Hy is ineens skrywer, digter, filmmaker en kunstenaar, en ook die skepper en bestuurder van die bekende Kagablog, 'n belangrike Webwerf waar aktuele onderwerpe wat met 'n verskeidenheid aspekte van Suid-Afrikaanse diskoers resoneer, uitgelig en bespreek word.
Kaganof is betrokke by verskeie vlakke van kuns en kultuur in Suid-Afrika, en handel in 'n spektrum van verskillende media en kunsvorms. Sy versameling wat aan DOMUS geskenk is, is dus ryk aan material uit verskeie oorde. Verskeie van Kaganof se films is relevant tot musiek, bv. The Legendary Syd Kitchen, Blues on a G-String, Reverie en Sharp Sharp: The Kwaito Story.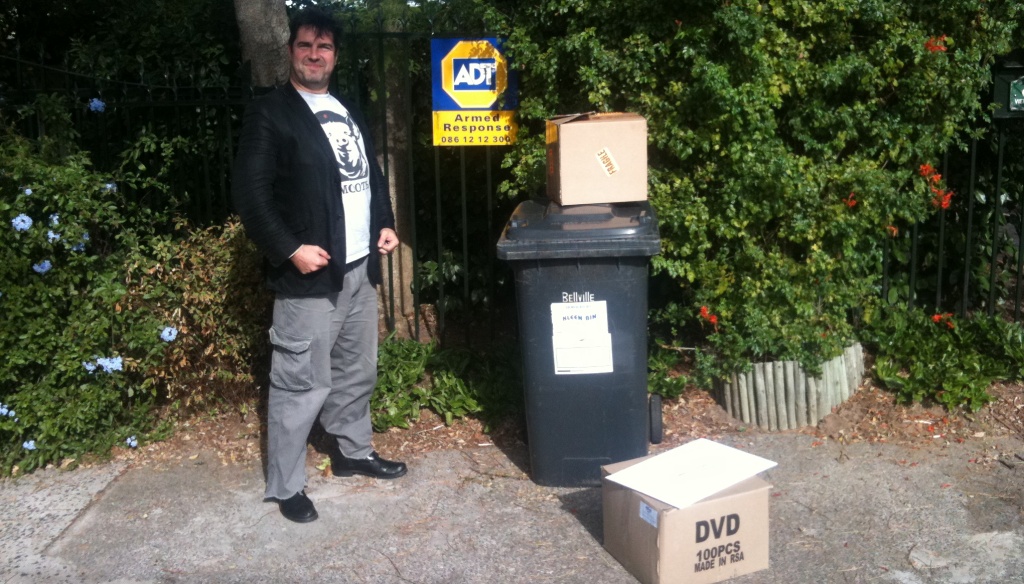 (Januarie 2011)
AK 47 FILMFEES BY STELLENBOSCH WOORDFEES
Hierdie filmfees bestaan uit 'n verskeidenheid van films deur filmmaker, skrywer en kunstenaar, Aryan Kaganof en fokus op die rol van musiek in sy werk. As deel van die Woordfees sal DOMUS een-en-twintig van Kaganof se kort- en vollengte films vertoon, wat dokumentêre films oor musiekgenres soos kwaito, jazz en blues insluit, asook films wat die interaksie tussen musiek, beeld en teks ondersoek. Die fees word gereël deur Lizabé Lambrechts.
Die filmfees vind plaas vanaf 7-11 Maart in Stellenbosch en Kayamandi (5 Ryneveld Restaurant, Ryneveldstraat, Stellenbosch en AmaZink Eatery, Kayamandi).
As skrywer, visuele kunstenaar en fimmaker, sal Aryan Kaganof sy werk met Christo Doherty (hoof van die Wits Kunsskool) bespreek in terme van "Medium Spesifisiteit", waar daar ook ondersoek word hoe inhoud beïnvloed word en potensieel verander word deur verskeie media. Hierdie gesprek vind plaas op 7 Maart om 14:00 in die Boektent, Stellenbosch.
Program (daagliks 18:30)
Maandag, 7 Maart:
DEATH AND SENSUALITY
Stellenbosch
Reverie (12min)
SMS Sugar Man (80min)
At last I'm free (5min)
Dinsdag, 8 Maart:
THE BODY POLITIC
Kayamandi
A perfect day (3min)
Sharp Sharp! The Kwaito story (25min)
Giant Steps (52min)
Woensdag, 9 Maart:
VIRULENT NIHILISM
Stellenbosch
Signal to noise (9min)
Kraftmusichall (10min)
Herman Hesse, flying (5min)
The Exhibition of Vandalizim (47min)
Donderdag, 10 Maart:
LAMENTATIONS
Kayamandi
Blue notes for Bra' Geoff (60min)
Diabelli Variation XXXIII (5min)
Western 4.33 (32min)
Vrydag, 11 Maart:
THE IMP OF THE PERVERSE
Stellenbosch
The legendary Syd Kitchen in "G-string blues" (32min)
The Portrait of a Lady (5min)
A Willing Suspension of Disbelief (3min)
Click Here to Unsubscribe (32min)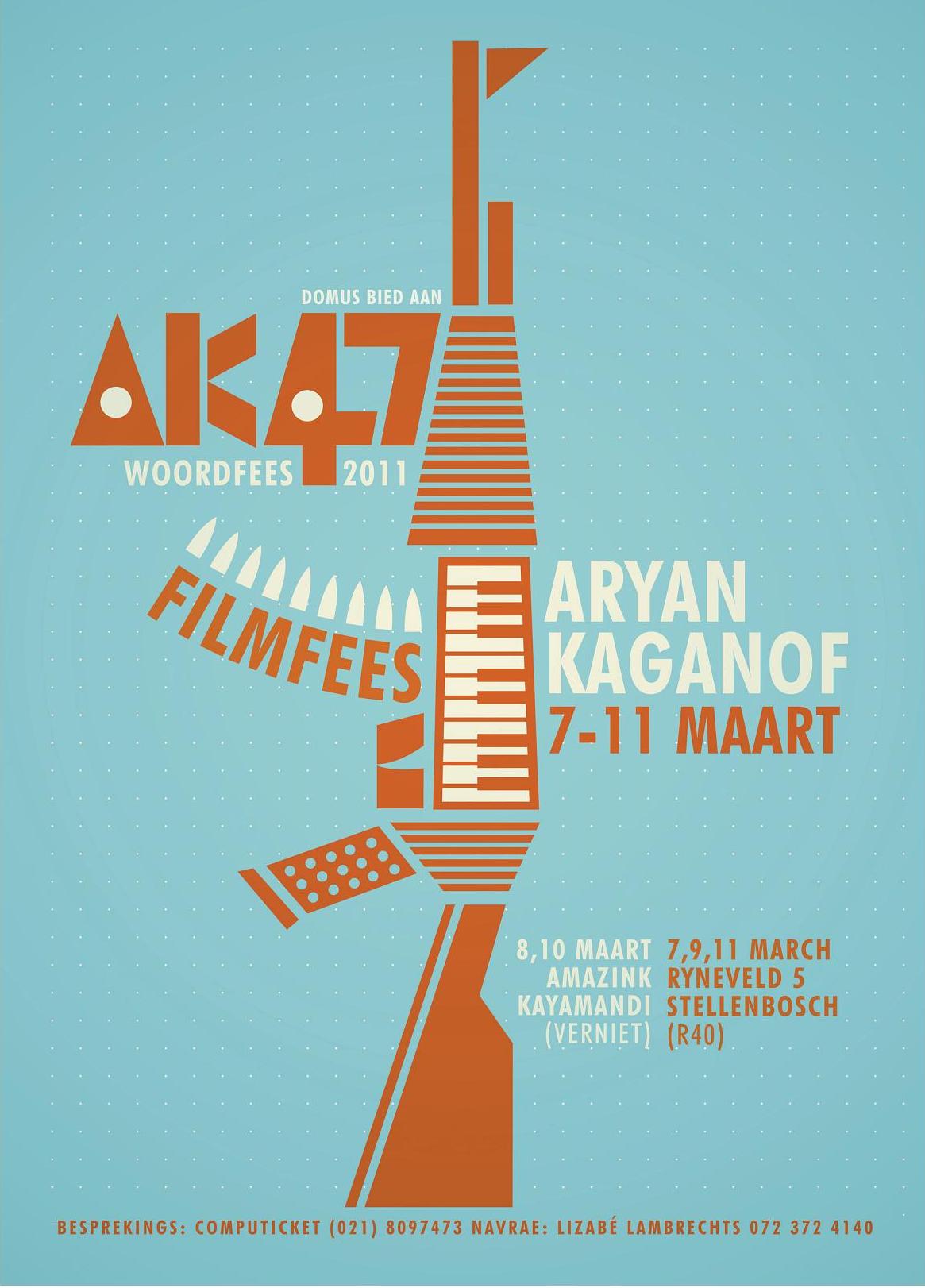 (Februarie 2011)
Last Updated ( Thursday, 19 January 2012 )